Pressemitteilung 15/09
vom 30. November 2009
Für ein flexibleres und liberaleres Urheberrecht
Aktionsbündnis "Urheberrecht für Bildung und Wissenschaft" nötiger denn je — in Berlin auf der Vollversammlung des Aktionsbündnisses stimmten sich die neu gewählte Lenkungsgruppe und die Sprecher auf den Dritten Korb ein und forderten vom Gesetzgeber, die Schutzrechte im Urheberrecht nicht weiter zu verstärken, sondern flexibler und liberaler den Nutzerbedürfnissen und dem Nutzen eines freizügigen Umgangs mit Wissen und Information nicht zuletzt für die Wirtschaft Rechnung zu tragen.
Am 27. November 2009 in Berlin wurde auf der Vollversammlung des Aktionsbündnisses "Urheberrecht für Bildung und Wissenschaft" intensiv darüber diskutiert, wie die in der Göttinger Erklärung verankerten Ziele in der anstehenden Dritten Runde der Urheberrechtsreform erreicht werden können. Das Aktionsbündnis will sich nicht vorschreiben lassen, welche Themen in diesem Korb angesprochen werden sollen, sondern will diesen Korb, der ja nach dem Beschluss des Bundestags von 2007 ein Wissenschaftskorb sein soll, aktiv mitprägen.
Zum einen geht es darum, die für Bildung und Wissenschaft, aber auch für die allgemeine Bevölkerung und Wirtschaft gänzlich unzureichenden Schrankenbestimmungen aus dem Zweiten Korb noch einmal auf den Prüfstand zu stellen.
Für Bildung und Wissenschaft sind die Bedingungen, unter denen in Forschung und Lehre urheberrechtsgeschütztes Material genutzt werden darf, viel zu eng und realitätsfern formuliert (§ 52a). Zudem ist selbst diese sogenannte Wissenschaftsschranke immer noch zeitlich begrenzt.
Den Bibliotheken werden viel zu enge Fesseln angelegt, so dass sie ihre Kunden nicht in dem Ausmaß mit Information versorgen können, wie diese es brauchen (§§ 52b, 53a). Hier geht die Gesetzgebung geradezu grotesk an den Nutzungsanforderungen und –gepflogenheiten im Umfeld des Internet vorbei.
Auch den Forderungen der Urheber selber, dass sie ihre Rechte an ihren Werken besser und schneller gegenüber den verwertenden Verlagen behaupten können, wurde bislang nur unzulänglich Rechnung getragen (§§ 31, 38, 95). Selbst gut fundierte Vorschläge des Bundesrats wurden im Zweiten Korb zurückgewiesen.
Im Grund geht es aber über die wichtigen kleinteiligen Verbesserungen hinaus darum, wie auch über das Urheberrecht erreicht werden kann, dass das in öffentlichen Umgebungen und mit Steuermitteln unterstützt produzierte Wissen allen Bürgerinnen und Bürgern ohne große Zeitverzögerung frei zur Nutzung zur Verfügung stehen kann. Nach langen Jahren, in denen die Schutzrechte immer mehr verstärkt wurden, müssen nun die Nutzerrechte verstärkt werden und der Nutzen von Wissen und Information für die Gesamtgesellschaft stärker berücksichtigt werden. Das ist die sowohl historisch als auch systematisch begründete Funktion des Urheberrechts — nicht zuletzt die Berechtigung des Gesetzgebers, hier tätig zu werden.

Wir brauchen nicht mehr Schutz durch das Urheberrecht & die Kreativen werden nicht durch Schutz motiviert, Neues zu schaffen, sondern durch Freiräume, bestehendes Wissen nutzen zu können. Wir brauchen ein flexibles, undogmatisches und sehr liberales Urheberrecht. Die Persönlichkeitsrechte der Kreativen müssen weiter gesichert bleiben. Bei den Verwertungsrechten sollte stärker den bereichsspezifischen Belangen Rechnung getragen werden. In der Wissenschaft werden andere Freiräume gebraucht als z.B. in der Spiele-, Musik- oder Videoindustrie. Stärker soll zwischen den den Urhebern zustehenden Verwertungsrechten und den per Vertrag erworbenen Nutzungsrechten unterschieden werden.

Auf der Vollversammlung wurde die 18-köpfige Lenkungsgruppe neu gewählt, in einer guten Mischung von Personen aus den Wissenschaftsorganisationen, den Verbänden und Fachgesellschaften, aus Bildung und Wissenschaft selber und aus den Bibliotheken und Archiven. Die fachjuristische Kompetenz wurde erweitert. Die Sprecherrunde mit Prof. Dr. Rainer Kuhlen, Dr. Harald Müller und Dr. Wolf-Dieter Sepp wurde bestätigt. Zum Sprecher wurde erneut Prof. Kuhlen gewählt.

Das Aktionsbündnis, so Prof. Kuhlen, wird im nächsten Jahr stärker den individuellen Kontakt zu den Politikern in der Regierung und im Bundestag, aber auch im Bundesrat, suchen, um Verständnis für die besondere Rolle der in Bildung und Wissenschaft Tätigen beim Urheberrecht zu wecken — sie sind immer sowohl Produzent als auch Nutzer. Das Aktionsbündnis will sich stärker noch als bisher um die urheberrechtlichen Probleme im Bildungsbereich, einschließlich der Schulen, kümmern. Es will sich intensiver mit anderen Organisationen und Verbänden auch aus dem weiteren Kulturbereich (Archive, Museen, Bibliotheken) vernetzen.

Das Aktionsbündnis wird auch in der nächsten Zeit die über ENCES (European Network for Copyright in support of Education and Science) begonnene Initiative im EU-Bereich unterstützen. Schließlich sollen über das von der DFG-geförderte IUWIS-Projekt, geleitet von Prof. Kuhlen, die Zielgruppen des Aktionsbündnisses, allen voran die wissenschaftlichen Gemeinschaften, umfänglich mit Informationen zum Urheberrecht versorgt werden.

Weitere Informationen über bundeszentrale@urhg-bildung-wissenschaft.de, von der Website des Aktionsbündnisses oder über das Projekt IUWIS – Infrastruktur Urheberrecht für Bildung und Wissenschaft

Prof. Dr. Rainer Kuhlen
Sprecher des Aktionsbündnisses "Urheberrecht für Bildung und Wissenschaft"
---
The Coalition for Action "Copyright for Education and Research" (http://www.urheberrechtsbuendnis.de/) was founded in 2004 in connection with the amendment of copyright legislation in Germany. The Coalition for Action lobbies for a balanced copyright and demands free access to worldwide information at any time from anywhere for everybody active in public education and research. The Coalition for Action is based on the Göttingen Declaration on Copyright for Education and Research of 5 July 2004. Six members of the alliance of German research organizations (Fraunhofer-Gesellschaft zur Förderung der angewandten Forschung e.V., Helmholtz-Gemeinschaft Deutscher Forschungszentren e.V., Hochschulrektorenkonferenz, Max-Planck-Gesellschaft, Wissenschaftsgemeinschaft Gottfried Wilhelm Leibniz e.V. and Wissenschaftsrat), more than 365 learned societies, federations and institutions as well as more than 7,100 individuals were subscribers to this declaration. Speakers of the Coalition for Action are Prof. Dr. Kuhlen (Konstanz), Dr. Müller (Heidelberg), Dr. Sepp (Kassel). More information on demand by: rainer.kuhlen at uni-konstanz.de, hmueller at mpil.de and sepp at physik.uni-kassel.de.
News

February 14
th
2017

We make you aware that on the website www.publikationsfreiheit.de is being tried, to manipulate the public and in particular the authors in education and science with incorrect claims in favor of publishers' interests.
(Press Release).


January 24
th
2017


The way has not yet come to an end — but the direction is right
The Coalition for Action sees in the draft bill for a "Copyright Law Knowledge Society Act — UrhWissG" from the ministry for justice an important step in the direction of an education and science-friendly copyright law.
(Press Release)


December 21
st
2016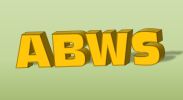 The road to the One General Exception for Education and Research (ABWS) should now be free now & mdash; Go ahead, Minister Maas!
(Press Release).


December 15
th
2016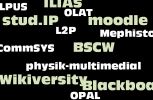 KMK, VG Wort and HRK must finally create clarity
The joint press release of KMK, VG Wort and HRK from 9 December 2016 is a source of uncertainty and confusion in the universities. What should actually be done with the electronic semester apprentices from 1 January 2017? Further is currently deleted or placed texts invisible. There is a need for action!
(Press Release)


December 12
th
2016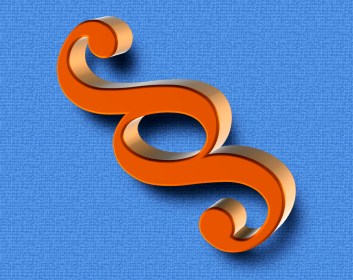 And they seem to still be able to move - KMK and VG-Wort. And the university rector conference (HRK) is now on board. However, the transitional regulation from the beginning of 2017 is still unclear. Debt to the present obvious disaster around the framework contract to § 52a UrhG is ultimately the intolerable delay tactics of the policy.
(Press Release).


November 23
rd
2016


Folder with our recommendations for dealing with the framework contract between KMK and VG-Wort to § 52a UrhG has been published.
(Press Release)


November 16
th
2016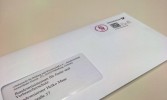 Offener Brief an den Bundesminister der Justiz und für Verbraucherschutz Heiko Maas: "Bitte lassen Sie den Schleier von diesem verdeckten Objekt [dem Entwurf einer Bildungs- und Wissenschaftsschranke im Urheberrecht] wegreißen! Der Öffentlichkeit ist das Spiel mit Andeutungen nicht länger zuzumuten."
(Letter).


November 7
th
2016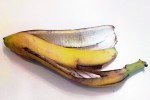 No panic — the § 52a framework contract does not have to be the last word for remuneration in science copyright law
(Press Release)


October 11
th
2016


The nonsense irritating the education and science simply goes on — on the framework contract for the remuneration of claims for uses according to § 52a UrhG in education and research
(Press Release).


October 4
th
2016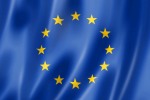 Comment of the Coalition for Action for a proposal from the EU Commission (COM(2016) 593 final) published on September 14, 2016 on "Copyright in the Digital Single Market"
(Comment)


September 27
th
2016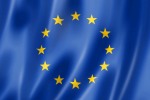 The proposal of the European Commission from September 14, 2016 for a new Copyright Directive is of no help to a science-friendly copyright.
(Press Release).


October 15 and 16, 2015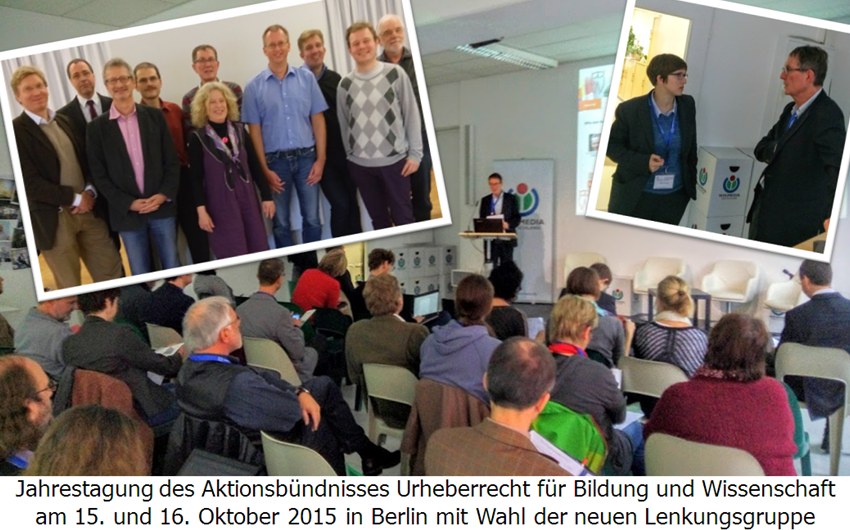 During our Annual Meeting in Berlin, the latest developments in European and in Germany Copyright law were discussed. A new steering group of the Coalition was elected.
The Annual Meeting in 2016 is scheduled to be in Berlin on November 10 and 11, 2016.
A Summary of the Presentations and Discussion is available.


published.

June 17
th
2015

The Legal Affairs Committee of the European Parliament has in its meeting on June 16, 2015 voted on the so-called "Reda Report" about the evaluation of a European copyright. It was agreed, among others, the estimation of the author, that "…libraries make an indispensable contribution to knowledge distribution and are intended to be authorized inter alia to the right of borrowing information in its digital format…" In parallel, Reda stresses that authors should be granted an appropriate reward for this digital lending. (more)



May 8
th
2015


The requirement to set up a comprehensive exception to the rights of education and science in copyright law, initiated by the Coalition for Action and by ENCES, is now arrived at the vice president, Digital Single Market of the EU Commission, Andrus Ansip, through a letter of C4C. (letter)



May 6
th
2015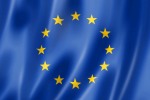 Today the EU presented its vision for 'A Digital Single Market Strategy for Europe'. Section 2.4. touches upon copyright issues for education and science, specifically on text and data mining. Our Coalition will follow the ongoing debate about the EU copyright reform and will promote the need for a comprehensive exception in favour of education and science. (more)



older news is available from our archive
Publications
Version: 22 November 2016
Format: A4 duplex


Version: August 2015


Version: August 2015


Version: July 2015


Compilation for the annual meeting on October 10, 2013


Evaluation of a survey and policy implications, September / October 2011


Relevant Links

facebook page of the Coalition

IUWIS project is developing a social networking for the topic of copyright in education and research.